Like Benita said in her blog, I do not remember a lot of assistive technology when I was in high school. Perhaps I just didn't pay attention or maybe my small school of 150 students K-12 didn't have access to many different types of assistive tech. When I think about my first year teaching at Winston Knoll, I can remember a few different types but the one that sticks out is the Tobii Dynavox which is an augmented and alternative communication system for non-verbal students. The device allows students to choose words and phrases to build sentences so they can speak what is on their mind to their peers and teachers—yes, how amazing is that!
Credit
One of the downfalls to the Dynavox was the weight and size. I remember my first day in October I went to shadow the teacher I was taking over for as she was going on maternity leave. She introduced me to all of the students and the one in particular who used the Dynavox. When they bell rang, we went down to the concourse for 'movement class' and while walking I noticed this student was way behind the others. He was carrying his Dynavox by a strap placed around his neck that was literally weighing him down, making him lean forward as he walked (not to mention he already had a difficult time walking). I was shocked. I felt sad. I questioned why. There had to be a better way for him to communicate with his peers without having to carry around a 20lb device (seriously, this thing was heavy!!). About a week into my new teaching assignment, I put a request in to buy an iPod touch that he could use in place of the Dynavox  and it was approved. You should have seen the smile on this guy's face when he realized he didn't have to carry that thing around anymore. There was a learning curve to this and he had become frustrated at times but after several weeks he got the hang of it and was able to use it properly.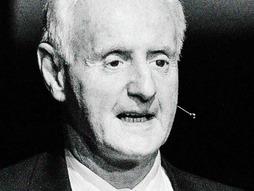 Credit
I really liked the Ted Talk by Ron McCallum this week. He spoke about his first 'blind computer' which helped him learn to communicate with the speech synthesizer. He went on to talk about book scanners that would read back to him and for the first time he could read what he WANTED to read. These were his first experiences of being able to read and communicate with his friends about relative experiences. His story reminds me of how some of my students must have felt the first time they were given a Dynavox, or PECS, or computer. Now that I am in a mainstream/all type classroom setting, I sometimes forget that all students still learn differently and some may need more help than others. The timeline that was shown during the presentation this week really showed that I need to spend more time looking into assistive technology and how they can help students learn, even in a gymnasium setting.